I Will Give Thanks to the Lord
23 Wednesday Nov 2016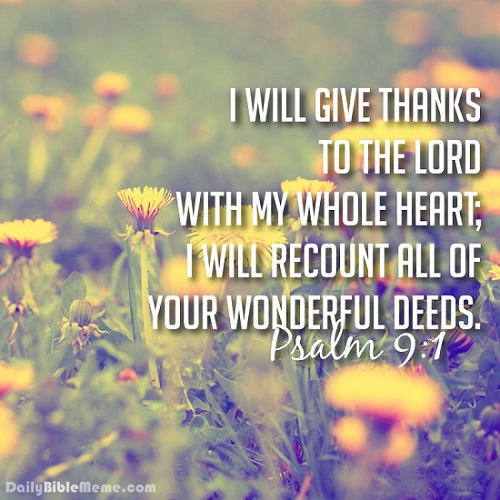 It's so easy and so natural to focus on the negative.  And there is a lot we could be negative about.
But….
We who are in Christ must never forget – we are of the supernatural.  We are filled with the power of the Spirit of God, and no matter what we're going through, whether good times or bad, we know our God is with us, providing us a way through by His very presence.  
So we are not just thankful in a general sense, but, having our spiritual eyes and eternal souls awakened, we are able to see and acknowledge that all things come from the hand of a good and loving Father and we give thanks to Him for His provision in our lives.
Ultimately, it is He we are thankful for, for "every good and perfect gift is from above, coming down from the Father of the heavenly lights…" (James 1:17) And all things, no matter how they look on this side, are being worked together for Good by a masterful Weaver for those who love Him.
It is He who gives sunshine; it is He who gives rain; it is He who gives air to breathe, keeps our hearts beating, and gives them the capacity to love.  It is He who provides for us in a million different ways, and it is He who our hearts and voices are privileged to acknowledge with thanksgiving for all things.
And when we do, it is He who is glorified, and our lives fulfill their ultimate purpose.
There is more that I am thankful for than I could ever begin to list here.
I will start with my salvation.  That story is a miracle all on its own, and when I look back at all that went into it, every person involved, every prayer lifted up, every perfect step taken that lead to that day, that place, that moment, when the Spirit of God overwhelmed me and called me His own, I am overwhelmed by His goodness.
That He would come after me, pour out His grace and mercy, open my spiritual eyes with belief, fill me with His Spirit and love, and call me His daughter, is enough to keep me praising His Name forever.
But that wasn't enough for Him.  He has continued to do miracles and pour out His blessing in countless ways since that day 27 years ago.  He is my bounty, and I am forever thankful to my El Shaddai.
I know you have much to be thankful for, too, and I'd love to hear it!
What are you thankful to God for?