The Word Became Flesh
24 Monday Dec 2012
"In the beginning was the Word, and the Word was with God, and the Word was God. He was with God in the beginning.  Through Him all things were made; without Him nothing was made that has been made. In Him was life, and that life was the light of all mankind.
The Word became flesh and made His dwelling among us." John 1:1-4, 14a
Every now and then I try again to wrap my mind around the fact that God has no beginning. He always was. And my head wants to implode. God the Father, God the Son, and God the Holy Spirit has no beginning, no ending, no boundaries to where and when He can go. He is in all places and times at once.
His strength and power are limitless.  There is nothing He does not know.  Every star, every planet, every body of water, every being was created by Him.  Light and darkness obey Him.
And when it came to solving the problem of our sin and separation from Him, He could have solved it any way He wished. He could have stayed on His throne without leaving behind His heavenly kingdom or rightful place beside the Father.
But in His infinite wisdom, Jesus came down off His throne and its majesty, and allowed Himself to be born wrapped in all the boundaries of humanity.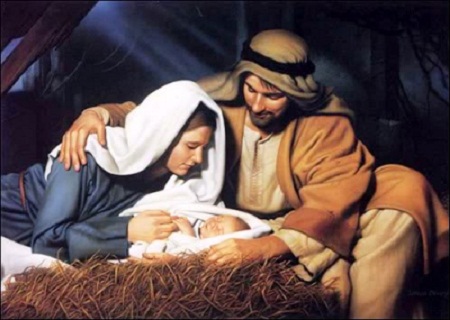 And suddenly His throne was a million miles away.
He entrusted Himself to His heavenly Father as He submitted His care to human hands.  Instead of being wrapped in royal robes, He was wrapped only in cloths, a helpless and vulnerable babe, lying in a trough made for beasts He created.
For our sakes He left His nobility and became poor. He left His majesty and felt pain.  He left the angels' praises and knew rejection.
From the moment He was born and throughout His life, Jesus showed us we can trust our heavenly Father, even when we feel as helpless and vulnerable as a baby. No matter who or what circumstances seem to be in control of our lives, our heavenly Father is always in control.  And we can trust Him.
We can rest in the arms of Jesus and know that He knows. And He has a plan.
May God bless you, and I wish you a very, merry Christmas!