Be Strong and Courageous
03 Tuesday Mar 2015
Moses had just died and was buried, and the time for grieving was over.  The Lord now called Joshua to take his place. The man who'd been Moses's aide, his servant, the #2 guy, the one who was used to taking orders, would now lead God's chosen people into the Promised Land.
God began to prepare Joshua for the long and grueling road ahead, and His instruction was carefully studded with these words:
"Be strong and courageous…" Josh 1:6
"Be strong and very courageous…"  Josh 1:7
"Have I not commanded you? Be strong and courageous. Do not be afraid; do not be discouraged, for the Lord your God will be with you wherever you go." Josh 1:9
God didn't say it just once and move on.  He repeated it, with increasing emphasis, three times.  He wanted Joshua to remember.
The Lord was with Joshua throughout their journey, giving him instruction, instruction that sometimes made no sense at all.  But Joshua had learned to take instruction, to be a humble servant, and humility always makes the best leaders.
It would not be the last time the Lord would remind Joshua to not be afraid.
Sometimes we can read these ancient stories and forget that these were real people.  Joshua was just a man, just a human being with flesh and blood like all of us.  And there were times he was inclined to be afraid, and why the Lord had to periodically remind him not to be.
It's been eleven years since the Lord spoke to me the words "Be strong and courageous" four times in the span of one month.  The very next month I would begin a journey of health issues, mysterious symptoms and pain, and the Lord has had to remind me many times not to be afraid, that He was with me.
Throughout this journey, He's blessed me at just the right times – times when I didn't think I could take one more step – with a message, a teaching, a friend, to remind me to be strong and courageous.
There have been times on this road that I've looked back with regret that I wasn't as strong and courageous as I felt the Lord had called me to be.  But I see that it wasn't just a call at the beginning of the journey, it's been what the journey is about.  It's been about making me strong and courageous, it's been about strengthening my spiritual muscles, as any trial worth its weight is wont to do.
And without those reminders, those messages, those Spirit-filled whispers of scripture, those perfectly timed words from friends, I would have sunk into quicksand and never come out.
After the Lord finished giving instruction to Joshua, Joshua then turned and gave instruction to God's people.
"Then they answered Joshua, 'Whatever you have commanded us we will do, and wherever you send us we will go. Just as we fully obeyed Moses, so we will obey you. Only may the LORD your God be with you as he was with Moses. Whoever rebels against your word and does not obey it, whatever you may command them, will be put to death. Only be strong and courageous!" Joshua 1:16-18
These are the kinds of friends to have – and to be – especially on the front lines of serving God where the enemy is sometimes the closest.
We need friends to remind us to take courage, to look up, to remind us of our purpose and the reason why God saved us – for our eternity, yes, but also to be a light in this dark world.  We need friends to help us put our hand back on the plow and remind us that "our light and momentary troubles are achieving for us an eternal glory that far outweighs them all. So we fix our eyes not on what is seen, but on what is unseen, since what is seen is temporary, but what is unseen is eternal." 2 Cor. 4:17-18
We need friends to remind us that that which is unseen, the Lord Almighty, is the One who strengthens us, and He is with us.  We are not alone.  The clearer our vision settles on God, the stronger and more courageous we'll be.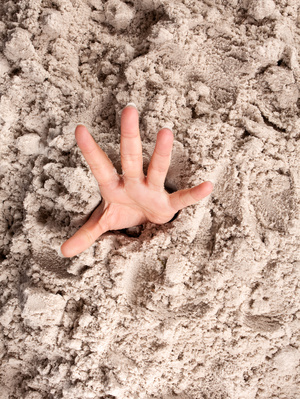 There are friends around each one of us who are going through something hard.  Let's look up from our own struggles every once in a while and be that encouragement.
They may not tell you how much they're struggling, but if you're careful to look you'll see it in their eyes.  If you listen, you'll hear it in their voice.  And most importantly, if you listen to the Lord, He'll show you who needs prayer, a kind word, a hug, a cup of coffee or lunch, a friend.
You just may be the one who keeps someone from slipping into the sinking sand.