Addicted to Unforgiveness
12 Tuesday Mar 2013
One of the first things God put on my heart shortly after I accepted Christ 23 years ago was to forgive a man who had maliciously intruded into my life several years before.
But why did I need to?  I hadn't thought about him, much, in years. I was married now.  I had a child.  Why did I need to revisit such a nightmarish memory?  Couldn't I just forget it? 
The truth is God knew I hadn't forgotten.  The memory and all its pain was buried deep in my heart.  And that pain was leaking poison.  And if I was honest, those painful memories were more at the surface than I'd like to have led on, even to myself.  
And God knew that if I didn't let go of that poison, it would contaminate my heart, my life, my relationships with my husband, people and even with God.
The only way to rid a body of that kind of poison is to accept the antidote: forgiveness.
After months of praying and choosing to forgive the man, God supernaturally moved that forgiveness from my head to my heart.  And suddenly I felt forgiveness toward him. 
One down, 3,563 people and circumstances to go.  Roughly.  And that didn't even count the things I needed to forgive myself for. 
Still, God had set me on the path to freedom.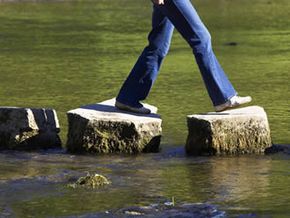 Recently the Lord has shown me some awesome truths about unforgiveness. 
It can become a habit that's as poisonous as alcoholism or drug addiction. You start off holding onto unforgiveness as a coping mechanism.  A balm to soothe the pain of the hurt.
But unforgiveness is liar.
The sin of unforgiveness goes much further than the unforgiveness itself.  There's a certain self-righteousness that comes with it.  An earned anger.  And loneliness. And they're all wrapped up in pride.
The truth is there is no balm in unforgiveness. There is no soothing of the pain.  There is only poison. 
Before the man, I'd already had a lifetime of pain.  I'd already learned to use unforgiveness as a crutch, an excuse, a way to steel my heart from any future pain.  My coping mechanism was set, my walls built, my heart scabbed over.  And every day that went by, the poison contaminated my heart.
But there was a war going on inside my heart that only God could see.  Behind that wall of pain and unforgiveness lay a heart that wanted so badly to be tender and sensitive and loving. 
The Lord saw my heart, the heart behind the wall.  And with that one act of obedience to forgive a man I'd see only once in my lifetime, the Lord had broken through that crusty heart.  And the poison I'd held there was gone.
Still, in the years since there's been much more pain.  And I've had my coping mechanism. My habit. And time and time again it was proven to me that I had a reason to keep that heart walled and secret and safe.  Fresh wounds gave me a right to hold onto unforgiveness, or so I thought.  I was still dealing with pain the way I had since I was a little girl.
But now I'm learning to let go of old habits.  And instead, I'm learning to trust the Lord. 
Because that's what it all comes down to.  Trust. 
Trust in the Lord with all your heart
    and lean not on your own understanding;
 in all your ways submit to him,
    and he will make your paths straight.

Proverbs 3:5-6
Trust that He sees your pain.
Trust that He is a good and fair God.
Trust that He is using every situation for your good.
Trust that He will make it all right in the end.
Trust that He loves you.
Forgive.  And let His peace fill your heart.
I wouldn't have thought that being assaulted thirty years ago would be used for my good.  But God is that kind of God.  The kind that can take a twisted, depraved act chosen by a sinful man and turn it around to make me a better person.  To teach me forgiveness.  And mercy. 
And to allow the life of Jesus—the One who has shown me an unknowable amount of forgiveness and mercy—to flow through me. 
And every day, with every circumstance, I have a choice to make.
Am I going to fall back on old habits or am I going to choose to lay down my pride, trust God and forgive?
Today I choose forgiveness. 
Will you?