Where Are You Staying?
04 Sunday Aug 2013
It was probably a day like any other day.  People are milling around John, known as The Baptist, as he talks about the One Who is to come.  Daily more people come to hear about the Light who has come into the world, to learn of repentance, and to be baptized. 
John is talking with two of his followers when he sees Jesus of Nazareth walk by, and declares "Behold the Lamb of God!"  John 1:36
They turn and see the One they've been hearing about.  The One Who they've heard will baptize with the Holy Spirit.  The One Who takes away the sin of the world.  And they leave and begin following Him.
"Then Jesus turned, and seeing them following, said to them, 'What do you seek?' They said to Him, 'Rabbi' (which is to say, when translated, Teacher), 'where are You staying?'  He said to them, 'Come and see.' They came and saw where He was staying, and remained with Him that day (now it was about the tenth hour).'"  John 1:38-39
These two new apostles, Andrew and probably the man who would author the gospel of John, wanted to know where Jesus lived. They left John the Baptist to stay, not in a certain place, but with Jesus Himself.  Where Jesus went, they went.  Where He slept and ate and spoke, they were there with Him.
His home, wherever that would be, would now be their home. And their lives would never be the same.   
Had Andrew and John stayed with John the Baptist, they would have only heard about Jesus.
They would have missed out on three years of actually getting to know Him, walking with Him from place to place, talking with Him along the way about the great mysteries He held deep in His heart.  They would have missed seeing Him perform miracles and watching Him change the hardened hearts of men and women.  They would have missed seeing the joy in His eyes when children skipped up to Him and threw their arms around Him, and hearing Him laugh as He held them tight. 
They might have missed that day at Pentacost when they were filled with the Holy Spirit and blessed with gifts from God to live out the greatest calling to go out into the world and preach the Good News. They would have missed seeing countless others come to know Jesus–the Man they knew as friend, confidante and Lord–as their Lord and Savior. 
Hearing about Jesus was good, but living with Jesus brought them to the Source of all good things, to the very feet of God, the place of all power. 
The word staying in the apostles' question is the same word translated as abide that Jesus later uses in this admonition: "I am the vine, you are the branches. He who abides in Me, and I in him, bears much fruit; for without Me you can do nothing." John 15:5
Jesus calls us to abide with Him, too.  It's not enough to hang back and hear about Him from teachers, parents or friends. 
He now lives in us and He wants us to live in Him, wherever that may be.  He wants us to beg the question of Him, "Where are you staying?"
Jesus doesn't live in church.  Don't leave Him there. 
If we've received Him as Lord and Savior, He lives in our hearts, and we are to live in Him. 
He is now our home.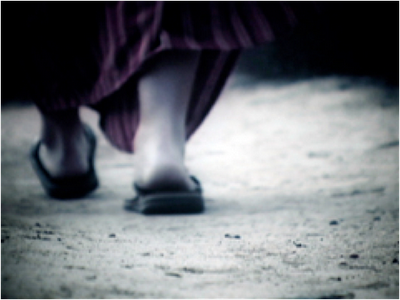 And for each of us He is in a different place.  He is walking in a different direction in my life than He is in yours.
He is doing a different thing, teaching a different lesson, healing a different wound in each of our lives. 
He is sanctifying individual souls.  And only He has the power to do it.
Why be satisfied with only hearing about Him, when we can live with the Source of all life?
Where is Jesus in your life right now?  What does He want to teach you?  How is He working to mature your faith?  Where does He want to go and who does He want to serve through you? 
Are you right there, following in obedience, living where He's living?  Are you in communion with Him daily, learning from the Master, being filled with His Spirit, receiving His gifts and living the abundant life He longs to share with you? 
Jesus said we can do nothing unless we abide in Him. 
But if we do abide in Him, there is nothing we can't do.