More Than Just Thankful
27 Wednesday Nov 2013
It was November, 1982 and I was on a Greyhound bus headed for Ohio.  I'd be spending the holidays away from my family.  I was 19.  Two years before I'd been asked to leave home one night and I'd been running ever since.  I had a lot to run from, but to where, or who, I didn't know.
My boyfriend at the time knew a couple there, who, coincidentally or not, pastored a church. How he knew them I have no idea. We drove up their driveway and stayed in their living room for the next month and a half.
If I felt lonely before, I felt even lonelier now.  I was almost 2000 miles from home, spending some very cold days in strange house while everybody was off during the day.
Thanksgiving came and went, and the days and nights got even colder.
Something settled in my chest and I couldn't stop coughing.  Nights were the worst, and it was a small house.  I lay there night after night, thinking I just might cough up a lung, and all I wanted was for someone to take care of me.
It was Christmas day and we tagged along to the wife's parents' house.  I sat in the living room staring at the activity, knowing I didn't belong.  I asked to use the phone.
I called home and my little sister answered the phone. I told her where I was and we both started crying.  She begged me to come home.  I wanted to, but did I belong there?  Did I belong anywhere?
My mother got on the phone and tried to convince me she wanted me to come back.  She said she'd send the money.  I told her I didn't know.  Staying was painful, but going back would be painful, too.
The couple we were staying with had bought a home in town.  We began helping them move, and they began dropping hints that once they were in the new house, we needed to find another place to stay.
I supposed it was time to go home, and back on the bus we went.
And I was thankful.
A lot happened in the next six years.  There would be a lot more running, but to where, or who, I didn't know.
There would come a day when I'd find out.
It was a Sunday morning and my husband and I had been invited to church.  We took our 6-month-old son, walked through the sanctuary into a tiny gathering of people who met in a few rented rooms in a strip mall, and I found the Lord.
I know people like to say God finds us, but God knew where I was all along.  He was with me on the bus and in Ohio.  He was with me all the time I was running.
And I'm thankful.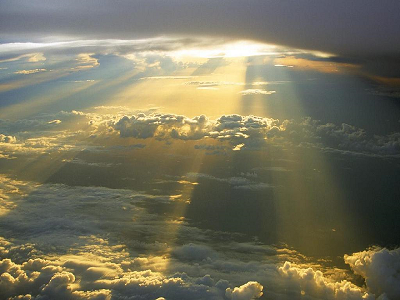 "Every good and perfect gift is from above, coming down from the Father of the heavenly lights, who does not change like shifting shadows."   James 1:17
In the world I had only a general feeling of thankfulness, but no one to direct my gratitude to.
Now I am more than just thankful.  I know who I have to be thankful to.
I know who was responsible for every sunrise and sunset I continued to see against all odds.  I know who walked with me and whose grace and mercy covered me as I roamed the streets of a town I didn't know. I know who healed me when there were no doctors.
And I know He was with me as I got a job as a front-desk receptionist at a computer company who had a lawyer whose calls I would answer, who would eventually steal me away to be the front-desk receptionist at his law firm, where two women worked who went to church together in a tiny congregation that met in a few rented rooms in a strip mall.
I know it's God, my God, my Savior and my Lord, who has blessed me with all things.  Even when I didn't know it.
And I'm thankful.