My Redeemer Lives
13 Saturday Apr 2013
I've been a believer in Christ almost half my life (maybe more, but that's a story for another day).  I've lived this Christian life so long that I can sometimes forget all that Christ has saved me from.
But once in a while God gives me a reminder, a little glimpse into what my life could have been like had I kept walking the path I was on.  I very well could have died in my sins.  Lost forever. 
But my Redeemer lives.
For I know that my Redeemer lives, and He shall stand at last on the earth; and after my skin is destroyed, this I know, that in my flesh I shall see God, Whom I shall see for myself, and my eyes shall behold, and not another. How my heart yearns within me!"  Job 19:25-27
Even Job, who lived centuries prior to Christ's incarnation, because of his intimate relationship with God knew he had a Redeemer.  While he sat utterly destitute and broken by the tornado of suffering he suddenly faced, he held onto hope that he would be saved, even if not until he passed on from this life.  He knew His Redeemer would reign victorious at the end of all things and that He would be raised with Him and see his Redeemer face to face. 
God did save Job and restored his life.  And I have no doubt that Job's faith carried him home to see the face he so longed to see, where all suffering melted away.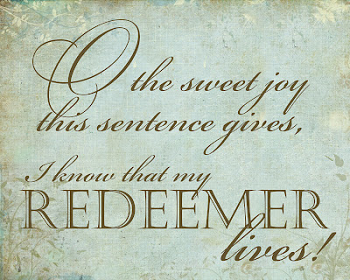 God's saved me from more than I have time to tell you here.  And no matter what struggles I go through as a believer, it's nothing compared to living this life without Jesus, without the hope of salvation. 
He's redeemed my soul from the pit.  He's saved me from destroying myself. He's rescued me from destructive relationships and from wandering the earth in a state of spiritual blindness. 
He's given me sight to see Him and ears to hear Him.  He's changing my heart from hardened stone to pure, soft flesh. He's blessed me in ways that before I would have thought impossible. And He's filled me with His Spirit to give me  the hope of salvation and that one day I, too, will see my Redeemer face to face. 
From what has your Redeemer saved you?
Grace and peace!