Last Days Living
25 Thursday Jul 2013
But mark this: There will be terrible times in the last days. People will be lovers of themselves, lovers of money, boastful, proud, abusive, disobedient to their parents, ungrateful, unholy, without love, unforgiving, slanderous, without self-control, brutal, not lovers of the good, treacherous, rash, conceited, lovers of pleasure rather than lovers of God—having a form of godliness but denying its power. Have nothing to do with such people.

They are the kind who worm their way into homes and gain control over gullible women, who are loaded down with sins and are swayed by all kinds of evil desires, always learning but never able to come to a knowledge of the truth. Just as Jannes and Jambres opposed Moses, so also these teachers oppose the truth. They are men of depraved minds, who, as far as the faith is concerned, are rejected. But they will not get very far because, as in the case of those men, their folly will be clear to everyone.

You, however, know all about my teaching, my way of life, my purpose, faith, patience, love, endurance, persecutions, sufferings—what kinds of things happened to me in Antioch, Iconium and Lystra, the persecutions I endured. Yet the Lord rescued me from all of them. In fact, everyone who wants to live a godly life in Christ Jesus will be persecuted, while evildoers and impostors will go from bad to worse, deceiving and being deceived." 2 Timothy 3:1-13
What we face today should come as no surprise.  Paul warned us of rampant sin, wolves among sheep, and persecution long ago.  So, the question is: what kind of response should we have?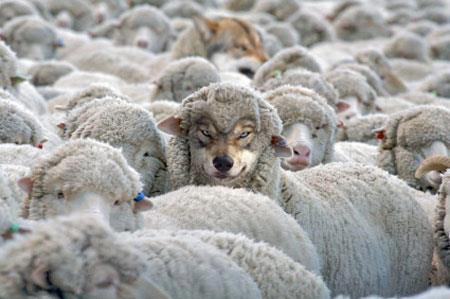 1. Expect it. 
There has always been sin and always will be until God pronounces judgment on the world and makes all things right.  But here Paul is warning us about a specific type of sinner.
Those who have a form of godliness but deny its power.  Those who live a form of religiosity but have no relationship with the living God.  These are dangerous people who wield lies as if they were the truth and they lead many down very destructive paths.  Paul warns us not to have anything to do with them.   
It's not hard to find these kinds of people if we're living connected to Christ ourselves.  We are to be so filled with the Holy Spirit that we are able to discern the truth from a lie and not get caught up in false doctrine. 
Be aware by staying in prayer and in the truth of God's Word. 
2. If you can't beat 'em, don't join 'em.
That list at the top?  That's our personal "do not do" list.  Sadly, it's not just unbelievers who can get caught up in those sins.  Many Christians allow themselves to fall back into temptation, be pulled back into the world and allow it to mold them instead of allowing the Holy Spirit to transform and sanctify them.  Romans 12:2 warns us about this. 
Stay plugged in to the Holy Spirit through obedience and He will lead you into all righteousness. 
3. Live intentionally. 
A tree only bears fruit when it's been watered and fed properly and when it's had the proper light.  A godly life doesn't come by wishing it.  It comes when we've purposed to live our lives in the Spirit by praying, reading God's Word and obeying it. 
And when we do live a godly life, expect persecution.  Sometimes we expect the opposite: that if we're "good" we'll be spared from sin.  That couldn't be further from the truth. 
When we live by the Spirit it is a threat to the enemy and he will stop at nothing to discourage us, to sidetrack us, and outright attack us. 
The apostle Paul attests to that.
It may seem as if those who do evil get away with their evil deeds.  And they very well may, for a time.  But the day will come when they will, in deep sorrow, bow their knee to the One Who is the truth, and they will be judged. 
We will bow our knee to our Savior and be ushered into eternal life and reward. 
Stand tall, stand firm.  Our Savior is with us.  Who can be against us?  No one!