Is Your Anchor Secure?
12 Wednesday Jun 2013
I asked the Lord one day how He can stand it.  How can He know all the pain and suffering that goes on in the hearts of men, women and children every minute of every day and not be overcome with grief?
He spoke to my heart and said, "Because I have hope."
I had to think about that one for a bit. What does God need with hope?  He knows all things.  But the kind of hope God has is not the wishing kind. 
It's not a verb, as in "I hope this or that will happen…"
It's a noun.  It's a sure thing.  An expectation.  A confidence.  And the object of our hope is nothing less than God Himself.
As I write this, Oklahoma is being slammed with a second round of deadly tornadoes.  New mystery viruses are killing people and doctors don't know what to do about it.  Abuses such as slavery and pornography abound and the news seems to grow darker every day.
And a bit closer to home, I know three people who are currently battling cancer.  I see people struggling in their walk with Christ.  And I have a daily battle going on in my own mind with health issues that keep trying to take my attention away from what's important.
No one gets through life without experiencing at least a few storms.  Waves of trials come crashing into our lives and it can feel like we barely have a chance to take another breath before we feel the sting of another. We feel tossed around emotionally and spiritually in the violent winds and waves and there are moments we can feel like the whole thing is going to capsize.  
But we've been given an anchor to still us.
When God made his promise to Abraham, since there was no one greater for him to swear by, he swore by himself, saying, "I will surely bless you and give you many descendants." And so after waiting patiently, Abraham received what was promised. People swear by someone greater than themselves, and the oath confirms what is said and puts an end to all argument. Because God wanted to make the unchanging nature of his purpose very clear to the heirs of what was promised, He confirmed it with an oath. God did this so that, by two unchangeable things in which it is impossible for God to lie, we who have fled to take hold of the hope set before us may be greatly encouraged. We have this hope as an anchor for the soul, firm and secure." Hebrews 6:16-19
The world puts its hope in things like health, finances, children, a spouse, friends.  And there are religious doctrines that will tell you God wants our lives to be perfect, that He wants us to put our hope in those things.  I'm not sure how anyone can read the accounts of Abraham or Job or Joseph or Paul or even Jesus and come to that conclusion.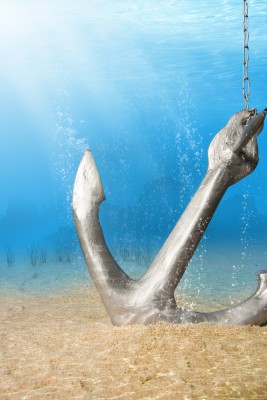 No, God wants us to know that no matter what happens He is our hope. So He swore by Himself–because He cannot lie–to prove that His promises are true.  But we may have to weather a few storms first.
Hope in God is what anchors us in those storms. 
Intead of being overcome, hope is what keeps us still and grounded, focused on God instead of thunder and lightning and our wet feet. 
And the more we know who God is—that He is a God Who never changes, that He is Who He says He is, and does what He says He'll do, and that He loves us beyond comprehension and wants for us His absolute best—the more heavy with hope we'll become. 
Sometimes it's in the middle of the storm we're tempted to panic and let go of hope. But that's when we need to hold on the tightest. 
God has hope because He knows the plans He has for us.  He knows He's in the boat with us and He maintains control of the storm at all times.  He knows that if we'll just hold onto Him, at the end of our storms we'll be children of God who will shine pure as gold, who will more and more reflect the beauty of His Son.
And we can have hope that this life is not all there is.  That there is another one waiting for us.  One where all our hopes and dreams will be fulfilled.  One where our joy is never again interrupted by pain or sorrow or suffering.  The hope of living with Jesus in paradise.
The storms may not abate, not for a while at least, but we can be confident in the One Who has power over them, and us.
With great hope,


 
I know, I know, you're asking yourself, "How can I never miss God Treasure again?"  I'm so glad you asked!  Just enter your email in the box under the welcome message to the right.  Don't worry, I don't spam, message or pass the hat.  God bless!
Photo attribution:
Image credit: fergregory / 123RF Stock Photo