Giving Thanks for Fleas
22 Thursday Nov 2012
Corrie ten Boom and her sister, Betsie, walked into their assigned barracks at Ravensbrück concentration camp.  The windows were broken and fall was quickly giving way to winter.  The room was filled with nothing but piers stacked three high, the stench of broken plumbing, and fleas.
"Betsie, how can we live in such a place!" Corrie asked her sister.
As Betsie asked God to show them how, she remembered what they had read that morning in 1 Thessalonians. Corrie read it again.
"Comfort the frightened, help the weak, be patient with everyone. See that none of you repays evil for evil, but always seek to do good to one another and to all."
But there was more, Betsie remembered.
"Rejoice always, pray constantly, give thanks in all circumstances; for this is the will of God in Christ Jesus." 1 Thessalonians 5:14-18
So they obediently gave thanks for everything.  They gave thanks that there had been no inspection so that they were able to keep their Bible.  They gave thanks for the inhumanely tight quarters, that more women would hear the Word of God.
And then Betsie gave thanks for the fleas.
That was going too far, Corrie thought.  Thanks?  For the fleas that were making a meal of their legs? She didn't understand it, but she went along.
Corrie and Betsie began holding worship services for the other women being held in their barracks with the Bible that had escaped the guards' detection.  Day after day, they noticed that the guards refused to go into their barracks. Why?
They soon understood the reason they could be thankful for the fleas.
Guards wouldn't step foot into their barracks because of the fleas.  If they had, the Bible would have been confiscated, and they might have been punished, or worse.
Because of God's provision, they were able to continue reading the Word of God–the light for their very dark path, the truth that pierced the lies of the enemy, their hope in the face of certain tragedy.
Everything we have to be thankful for isn't always easily noticed.  It isn't always what we want to be thankful for.  Sometimes it's the very thing that we pray God will take from us that He wants to use for His glory and our growth.
Sometimes we'll see the reasons now for the fleas in our own lives–those things that keep after us, making our lives uncomfortable and sometimes downright miserable.  But I suspect we won't fully understand until the day we can sit down with Jesus under a shade tree in heaven and He reveals the beauty of it all.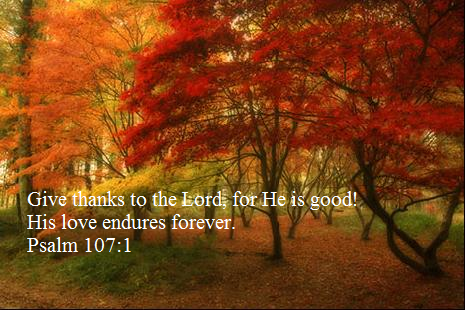 You can read the story of Corrie and Betsie ten Boom in The Hiding Place.